Kishu is the number one plum producing area in Japan and a major production area for the superior quality Nanko plums in particular.
Whilst major producers of umeshu use fruit which is still green and unripe, we brew umeshu using Kishu-produced fully-ripened Nanko plums.
(1) [Selection and washing]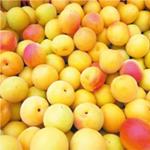 The fully-ripened Kishu Nanko plum fruits are sifted by a sorting machine. During sorting the plums are washed with running spring water, removing waste attached to them such as woodchips, leaves, and parts of flowers.
(2) [Steeping]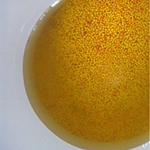 After washing, the plum fruit is steeped with sugar and alcohol in a brewing tank. The photo above shows the plum fruit directly after steeping.
The rose tinged yellow fruit is distinctive of fully-ripened Nanko plums.
(3) [Ageing and maturing]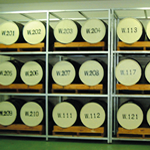 The plums are steeped and matured in umeshu tanks or oak casks. The plum extract slowly infuses into the alcohol and with time creates a mellow flavor. After maturing, the plum fruit is removed and the liqueur is further aged. In this way the unblended liqueur that forms the basis of umeshu is born.
(4) [Quality control and completion]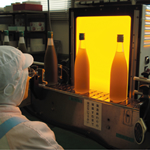 The finished umeshu is commercialized based on strict quality control. After final composition adjustments and quality inspections are carried out, the umeshu is heat sterilized and bottled. A final quality check is performed and the umeshu is shipped as a finished product.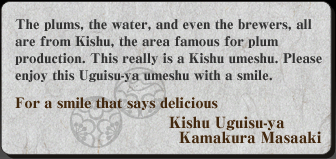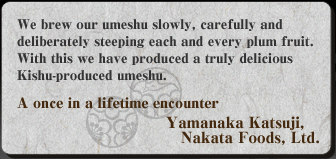 No drinking under the age of 20 We cannot sell liquor to persons under the age of 20.