This umeshu uses the new variety of Kishu small plum, the Purple Queen, and is prepared with Tonda Water, the famed water of Kishu Kumano and winner of the Monde Selection Gold Award.
A brand new variety of violet small plum - a first even in the history of Kishu - preserves its fresh fragrance and gives a lovely rosé finish to this new brand of liquor.
Enjoy the fragrance of fresh plums and the translucent rosé color at your leisure.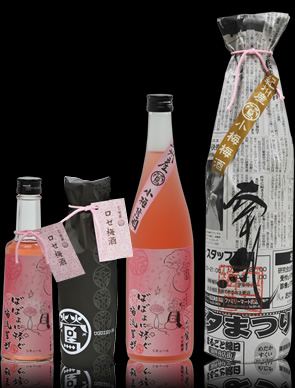 300ml/720ml/1800ml
Alcoholic content: 12%
Ingredients: Plums (Purple Queen from Kishu), sugars, alcohol, vegetable pigment
Rose Umeshu 300ml ¥830 (tax inc.)
Rose Umeshu 720ml ¥1,610 (tax inc.)

No drinking under the age of 20 We cannot sell liquor to persons under the age of 20.