This umeshu uses Kishu-grown Gojiro plums for the plum stock, and is prepared with Tonda Water, the famed water of Kishu Kumano.
The Gojiro plum is a plum originating from Kishu Tanabe.
It is a very beautiful green plum, and is a variety that is older than the Nanko plum.
Prior to the Nanko umeshu that has now become the standard, umeshu was brewed with Gojiro plums.
This rare Gojiro plum is finished into a clean type of umeshu, in which one can savor the characteristic taste, faint astringency and refreshing sourness of green plums.
Recommended to mix with soda for
a refreshing spring or summer drink.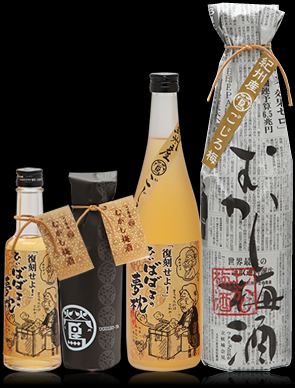 300ml/720ml/1800ml
Alcoholic content: 12%
Ingredients: Plums (Gojiro plums from Kishu), sugars, alcohol
Traditional Umeshu 300ml ¥710 (tax inc.)
Traditional Umeshu 720ml ¥1,450 (tax inc.)

No drinking under the age of 20 We cannot sell liquor to persons under the age of 20.