This is produced by blending Wakayama Peach Juice with matured umeshu made from fully-ripened Kishu Nanko plums harvested when the fruit turns yellow and "Tonda water" - famed water awarded by the Monde Selection Gold Award.
The sweet aroma of peach and the tartness of the plums are mixed well to give fruity flavor to this Peach Umeshu.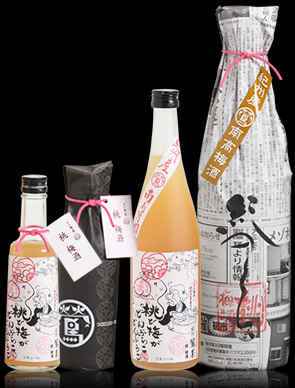 300ml/720ml/1800ml
Alcoholic content: 12%
Ingredients: Peaches(from Wakayama), sugars,Plums (from Wakayama), alcohol,flavorings
Peach Umeshu 300ml ¥810 (tax inc.)
Peach Umeshu 720ml ¥1,500 (tax inc.)

No drinking under the age of 20 We cannot sell liquor to persons under the age of 20.